"There and Back: Breaking the LEJOGLE record"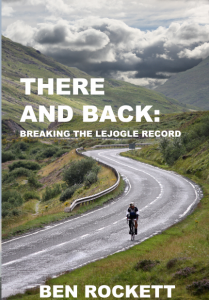 This book has now sold out
On the 27th of August 2010, Ben Rockett returned to Land's End just 5 days, 21 hours and 8 minutes after he left. In that short time the 'Rockettman' had cycled the length of Great Britain twice, covering the 1,880 miles from Land's End to John O'Groats and back, with just over two hours sleep and taking 23 hours off the previous world record in the process.
'There and Back' is the story of that epic ride; of the intense physical and mental endurance necessary to ride virtually non-stop for almost six days whilst battling the best of the British weather and the agony of a body and mind being broken apart. It is also the story of 18,000 training miles, of the people that helped make it happen and also those who sat at home willing on his GPS tracker. Yet ultimately it's the story of one man, his bike and his dream to see how far he could push the human mind and body to achieve something truly remarkable.
Ben Rockett is a man who believes that every one of us is capable of achieving something incredible and here he proved it. If you've ever ridden a bike, whether it be across the street, across town or across continents, read this book.
David Badger
Director Sportif
Blazing Saddles RCC
  "This is a truly motivating read. The mental strength shown by Ben is incredible."
(Amy Williams, MBE, Olympic Champion). 
"Ben has the integrity and ability to deliver reality from his most outrageous dreams. Reading this book I'm utterly energised; motivated to think originally and do the extraordinary."
(Vin Cox – Circumnavigation world record holder and Global Bicycle Race organiser)