Now that I'm sat back in the UK, I thought I'd write a little recap of the race over in California.
Well what a challenge that was! We started at 6pm, congregating around the start/finish line from about 5pm. In that hour I think a million thoughts crossed my mind and I was unable to focus on anything in particular. As always with races though, as soon as the last ten seconds had been counted out, and the starter's duty was over in the bang of a gun, all those nerves melted into the tarmac as all thoughts immediately switched into just turning the pedals around and around. And just as those nerves were melting into the tarmac, so too would everything else come sunrise the next morning.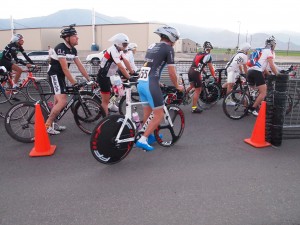 As it was, 6pm saw the 24hour racers roll out of the start area and onto the first of the large loops (121 miles) around the Salton Sea. The start was actually quite confusing. It was an individual 24hr TT yet it was a mass start, and we were expected to all be separated by the time we reached 11miles into the race (conveniently, this was in conjunction with the turn onto Highway 111). Until that point, all the riders were bunched in a group, with no sign of the group dissolving before penalties could be enforced. Nervous of such sanctions I decided to eliminate the risk of being penalised and tried to find open road. Sure enough, as soon as I settled into my rhythm, other riders were whizzing past me and it was hard to remain focused on my own race and not get sucked into the excitement of racing. I have a great habit of being 'a school-boy in a local race', and heading out much too fast from the start, only to crash and burn, so I've been working hard on the mental elements of being more steady and consistent and once I'd found my open road, this is what I attempted to do.
Although much of the race was ridden in isolation, I very quickly fell into a dual with David Haase, who is perhaps the most encouraging person I have raced against. Both David and his support team were full of encouragement and it seemed that we spent much of the first 200 miles jumping back and forth between positions. Each time David overtook me, he would disappear off into the distance and then about 20-30 minutes later I would gain enough ground to pass him, until another 20-30 minutes when he would pass me. Eventually and after several swaps of position his light grew too far ahead of me and I was unable to catch him again.
As it happened I completed the two large loops (242 miles) in around 11 hours and despite a short bonk about 150 miles into the race, I was feeling confident with my pace and my remaining reserves. I was looking forward to making it onto the smaller loop for the next 13 hours as the road surface had been bone shaking in places.
Progressing onto the small loop before sunrise had been my mid-race target and as the suport vehicle pulled into the start/finish area I rode off looking forward to the chance to disappear into a quieter place without the constant rumbling of a car engine so close by. Rather than putting up with the hum of the engine, the small loop brought about another challenge – aggressive packs of dogs. They seemed to come charging out of everywhere, and some of them were able to give a good chase. At one point I had to help a fellow competitor who had stopped after being surrounded by four very angry dogs and then realised that in doing so I had to also get away from them! It was the case for all racers, but their presence was certainly not wanted.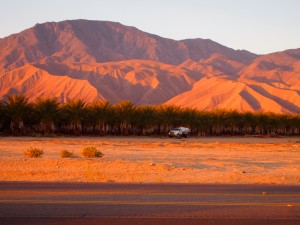 As I pressed on, riding lap after lap of the small loop, I grew increasingly fatigued. Pre-dawn there was a sharp chill in the air and I was anticipating the warmth of the sun as it rose above the surrounding mountains. Delighted with the warmth initially, the temperature continued to rise and rise and eventually the heat was my downfall. I struggled to keep food and drink inside me, and with five hours still remaining on the clock, my body ceased to sweat, which concerned me greatly. The team cooled me down with a water sprayer each time I passed through the start / finish but that was helpful for only a few minutes. My speed suffered so much. It was a real struggle to maintain any decent pace and as such I clawed through the final hours of the race, giving everything I could to advance just a few more miles.
Eventually 6pm arrived and the race was over. I'd given everything I had out there on the course and was pleased to have finished in 4th place in my first outing, riding 447 miles. Marko Baloh was streaks ahead (495) with Adam Bickett in second (485) and then David Haase in third (448). Congratulations to them all! It was a steep learning curve, and the race provided some very difficult conditions in which to race. But an enjoyable experience and one from which I have come away wiser and with an even stronger hunger to do better and once again get closer to my PB.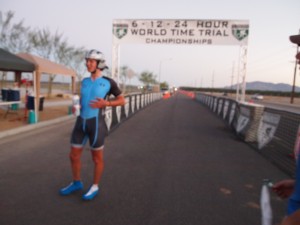 A huge thank you to all the sponsors who helped me get over to America and compete in this race. LinksRisk, the Bicycle Chain, First Property Lawyers, o2Creation, AfterShokz, Spotify and Qoroz. A great big thank you to my support team, Dan Tudge and Sabine Zonderland, and to my team of travelling supporters (Mum, Dad, Teresa, Liz, Stuart and Rolf!) It was great to see you all there. And thank you to all who followed the progress of the race and got in touch through the various sites / methods of getting in touch. Dan and Sabine were relaying all your comments and it's wonderfully motivating to hear them, especially at 3am!! Here's to an even greater distance in the next one…