Blog entry courtesy of Luke Humphreys: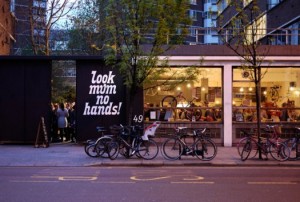 An invitation to a memorable night of bikes, photography and beer. All for an inspiring cause.
Dates:
7th of March – An auction of cycling images + rare Team Sky Kask helmet signed by Bradley Wiggins, Mark Cavendish & Luke Rowe.
8th of March – A raffle of cycling products from Oakley, Giro, Rapha, PRO, 5th Floor Dynamo Works and many more.
A mountain bike racer who has never cycled more than 60 miles in one go will ride the length of Vietnam in 10 days!
After all it's only 850 miles……
David Jaquin is part of a team of cyclists tackling the mountains of Vietnam through Cycle A Difference to raise money for the charity Newborns Vietnam, an organization who train nurses and supply much–needed equipment for the at–risk newborns throughout the country of Vietnam.
The team have been raising money through various events over recent months. Look Mum No Hands! have teamed up to host a night designed to bring together riders of all types of bike. A pile of product from a host of generous cycling brands will be up for grabs through a raffle. Breath taking images from some of the worlds top bike photographers will be up for auction. We also have a very special helmet, one that represents a first in Britain's cycling history.
The 7th of March sees an auction of cycling photography from all over the world. From twisting Spanish mountain roads to the dust and adrenaline of Utah's mountain bike scene, there is something for everyone.
On the 8th of March we have teamed up with Darkstar Brewing Co. and a full roster of top brands from the cycling world to hold a raffle of bike products. Oakley have donated a 'money can't buy' pair of their new Radarlock glasses and with other prizes from Giro, Rapha, Kask and Chapeau! there is every chance you will be going home with something very special for the price of a beer!
Please see the attached for further information and feel free to forward this information to those who are interested.
Many, many thanks to all of the people that have supported the charity ride. If you can't make the event but would still like to donate then please visit justgiving.com/david-jaquin
If you can make it then see you at the Look Mum No Hands!
Look Mum No Hands!
49 Old Street
London EC1V 9HX
Kind Regards
Luke Humphreys