Tucked up in the Arctic circle North of Canada, lies Baffin Island, which is locked in sea ice for the majority of the year and as with polar region extremes, the island experiences the Polar Night (24hour darkness in winter) and the Midnight Sun (24hour daylight in summer). Inhabited predominantly by Inuit communities to the South, the island is caught in a weather channel that ensures extremely low temperatures with an annual average of -10°C and winter temperatures that flirt closely with 30°C below. Being equipped for such cold temperatures is essential for survival in those conditions. In March, 2014, I will embark upon an unprecedented cycle traverse of the Island.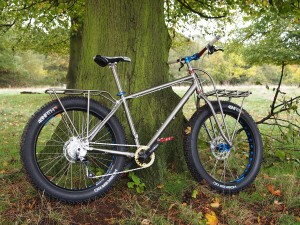 Qoroz
bikes launched into the process of designing and producing a completely bespoke expedition bike that considered, in extreme detail, the demands of the environment. The iterative process started with a stockpile of questions, research, technical drawings and product trials to produce the Qoroz Snow Bike, which I reveal to you here.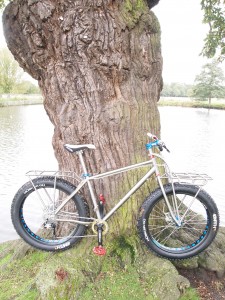 Supported extensively by
Hope Technology
who have provided and modified all the components,
SupaTracks
who have provided the 300-tungsten-studded tyres that are mounted on
Strada's
Handbuilt bespoke wheels, the bike that has been produced exists as an innovation that's been created in response to the environmental demands.
The prolific British explorer, David Hempleman-Adams has been providing training and preparation advice to ensure that I too, am ready to undertake this expedition across Baffin Island. His familiarity with hostile arctic and antarctic conditions has informed critical changes in both the bike design and my personal preparations and over the course of the coming months, both the bike and I will be subjected to further rigorous testing in the field, industrial freezers and with self-sufficient isolation. It is essential that I learn to operate flawlessly in those conditions and familiarise myself with the most basic of daily routines.
Of particular attraction to the
Qoroz
Snow Bike is the artistically functional pannier rack design. This expedition will be self-sufficient so I will be carrying everything that I need for the duration of the ride. That amounts to a lot (but not as much you might think) of kit and calories and all of that must be stored and mounted on the bike itself. Extreme efficiency is thus necessary when preparing for and packing up the bike; that kit needs to amount to as little weight as possible.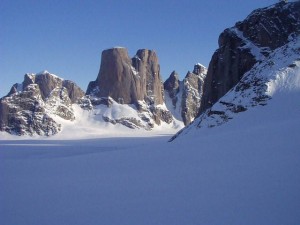 Keep an eye on here for updates on the training and preparation experiences.
Event Partners:
(click for links to their website)
David Hempleman-Adams