September 13th, was an early start. A very early start in fact. Heading across London and out to Brand's Hatch for the 2012 Cyclothon UK Challenge not only allowed me a rare easy passage through the city, but it also enabled me to witness a fabulous sunrise over the world famous racing track. The organisers, VU ltd, kindly allowed me to enter the challenge at very late notice as it was a perfectly timed chance to accrue some training miles ahead of this November's 24 hour challenge in California. As I'm one for being early to arrive at races, I found myself driving onto the racing circuit as the orangey glow of the sun's light unveiled the undulations of the 2.3 mile loop that was about to become the course of the next half-day. But somebody else had arrived before me; a very smart Audi A3 and we were driving very slowly towards the start/finish line of the circuit….
I knew my 1.6 Renault Scenic was no match for a race around the track so I ambled into the pit lane to unload and set up camp in my designated area alongside all the other solo riders. Setting up camp for such an event (for me, anyway) means laying out the various options of food in easy to reach locations, leaving a small patch of floor in which to pace around, exchange brief, one-side-of-the-face smiles with other riders that share the same 'do I actually put myself through this for fun?' questioning moments. After registering in the watch tower and affixing numbers to clothing, we were all gathered in the pits, exchanging stories. And I am sure anyone who has raced before is familiar with the start-line conversation that goes "Aaah, I've not really trained enough for this, but I'll see how it goes."
And so we were called to that start line by none other than Mr Anthony McCrossan, who was to commentate on the race for the full 12 hours. Riding a bike for 12 hours is one thing, but talking continuously for that time I can only imagine to be of a greater challenge. We were set off and right from the start, people were riding out at full tilt. Carl Ferri (men's 12 hour solo winner) and I looked rather bemused at their early speed until we learned of their involvement with the relay teams and rather amusingly, that became a way of introduction out on the course: "Alright mate, are you relay or solo?!".
The first thing that surprised me was just how hilly the race circuit is. Rounding the Paddock Hill Bend and descending into great speed before a deep compression at the foot of Hailwood Hill was a moment to catch breath before pumping the legs and rounding the U-turn and again descending Graham Hill before committing to the left hand bend into Cooper Straight. From there, the rollercoaster ride was over, but the energy sapping drag up to Pilgrims Drop ensured the front half of each lap remained in the legs until their brief chance to recover along the back half, which saw riders grouping together and flying back towards the start / finish line. It was during this section that I first got chatting to Mike Hall, the world record holder for circumnavigating the globe. I was certain that 12 hours in the saddle would be a doddle to him, and we eventually struck up conversation regarding the wonderful charity 'Cycle a Difference'.
With 300 riders taking part, the challenge had a fantastic atmosphere, both competitive and highly supportive, with many riders taking time to chat, share a few miles of conversation and encouraging all others on the most testing sections. The organisation was faultless and very efficient allowing all the needs of those riding (and those supporting) to be met (food, repairs, massage, rest areas). I was amazed at the quality of that which was provided and would strongly recommend next year's event as a seriously challenging day that will leave you feeling utterly delighted with your efforts as you roll over the finish line.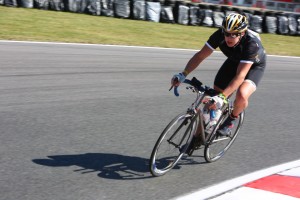 For me the day was a great test of fitness. As a non-competitive entrant I must admit that I indulged in the services of the Extreme Sports Therapy Team from City College Norwich. Combined with great conversation and handfulls of food it was a great way to enjoy the sunshine and listen to the continuous whirr of excitement that filled the relay teams as they cheered their riders on whilst leaning through the fencing alongside the pit lanes. The first six hours were interesting and perhaps I should have eaten more than my two packets of Hartley's Jelly, but after coming in to refill water bottles and stock up on some more food I returned to the track in a different state of mind. A 12 hour ride is long enough to entertain yourself with both euphoric and very dark internal conversations. The sort where you convince yourself that it's ok to stop and take it easy, yet however strong these appear, they remain in conflict with the rational part of the brain that says "if i stop, it'll be harder to keep going after". Endurance training is as much about developing this rational strength as it is strength in the legs. Having the conviction of mind to remain out on the track, riding in tiny circles as you feel progressively more stiff and fatigued is key to doing well in these events. Bad patches are just patches; you come through them, and although they may introduce your mind to some very, very dark places, ultimately the decision to face these moments and continue brings more light and enjoyment to the final result where you've overcome those feelings and made it to the end.
Needless to say, I had bad patches in that 12 hour event. I've had many since, but in experiencing those moments and responding to them in the right way has helped a little in preparing me for the upcoming race in California.
A really wonderful event; well organised and with the opportunity to ride with some truly remarkable people around a very challenging world famous racing circuit. Thank you VU Ltd and CyclothonUK for the opportunity.